Snyde Simbert, Au.D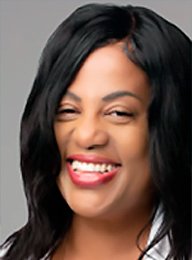 Snyde Simbert Dr. Snyde Simbert moved to America from Haiti in her early teens. Raised in Brooklyn by a single mother who taught her and her sisters the value of higher education and the goal to achieve the American dream, Snyde focused on her studies.

From her high school days in Brooklyn at Prospect Heights to the completion of the Doctoral program in Audiology at Salus University, her sole focus was always on being at the top of her classes as well as being able to contribute to society. At Brooklyn College, she discovered the joy of helping people to hear and feel connected with the world around them. She changed her major from Broadcast Engineering to Speech and Hearing Science.

Snyde started her career in NYC at Kings County Hospital where she worked for 9 years addressing issues of hearing and balance for children and adults.
She has moved throughout the US with her family yet remains focused on helping the clients who needed her assistance. She has worked at Bronx Lebanon Hospital, Maine Hospital, HearUSA, All American Hearing and Connect Hearing. She has worked in management as a clinical supervisor at South Florida ENf in Weston and a clinic director at the Center for Hearing and Communication in Fort Lauderdale. She joined Associated Coastal ENT in 2021 with the sole focus of providing excellent care and assistance to those who need her.

Snyde is the proud mother of two daughters whom she adores beyond life itself. She enjoys reading, working out and traveling. Her favorite statement when asked what language she enjoys communicating in despite the fact she is fluent in "Creole, French, English and basic working knowledge of Spanish" is "I speak "respect" fluently."

Dr. Simbert currently sees patients in our Fort Pierce - Coastal and Port St. Lucie - Coastal offices. If you are interested in making an appointment with Dr. Simbert or would like additional information about our practice, please contact our Fort Pierce - Coastal office at 772-464-9595 or our Port St. Lucie - Coastal office at 772-334-0022.